Ok so i recently put a 125 gallon preform pond in my back yard.
I plan to keep Africans in it during the summer. So i wanted to make sure i had a pretty good filter runnin out there, but
i didn't want to spend a lot of money...
First step was to buy a pump.
I bought a Mag Drive 7 new from pet solutions. With shipping it was $65.
I decided a bucket filter would be the most cost effective...
I also decided on a 3-stage filter process
The First being a Blue and white filter material
The Second a carbon and zeolite mix
The last being a black lava rock layer
I Bought a new spiffy looking blue bucket
and drilled a pattern of 5/8" and 5/16" holes in the bottom for drainage.
I also "borrowed" a couple other buckets from friends and ran them through the table saw and chopped the bottoms off
one about 2 inches tall and the other like 4 inches tall
Then drilled the 4" bottom with a pattern of 5/8" holes, then another surrounding pattern of like 5/16" holes (this allowing the water to move pretty fast through this layer).
Also drilled the bottom of the 2" one with a pattern of only 5/16" holes allowing this layer to cause the water to back up slightly and evenly go through the holes (in theory
).
Last drilled a 5/8" hole right smack dab in the middle of the lid for the hose from the mag 7.
Pic time: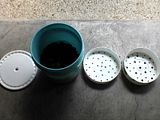 I filled the bottom of the bucket about half way up with black lava rocks
(Rinse them first, they are very dusty)
Then cut yourself bout 4 round cut-outs of filter pad using the small buckets as a guide.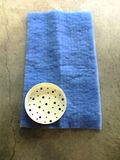 Then place one of those filter circles on the bottom of the 2" bucket
followed by your activated carbon.(I used a filter saver bag for the middle and since i didn't have another one i just spread some evenly on either side of the bag)
Set that tray of carbon on top of your black lava rock.
Then set the 3 other filter pads in the 4" bucket and set that on top of the carbon tray(they should snug into one another).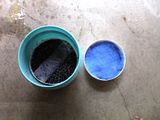 Then if you notice above there is a edge around the 2 buckets.
I just shoved the clippings from when i cut the round pads and shoved them into that void just so no water can't completely bypass the the top 2 sections very easily.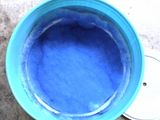 I don't know if this is necessary but just in case the bucket isn't flowing correctly and gets backed up, I placed 2 rocks on either side of the top filter pad section so the sections won't start to float in the bucket.
I left soem room on the top section so that if water backs up it will have room to store it and cause some more downward pressure on the water traveling to the bottom of the bucket.(If that makes sense
)
After that snap the lid on and put your tubing from the water pump in the lid hole, hang over pond, and bammm
......you got what i consider a decent outside filter.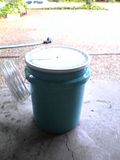 So thats that...
I hope this was slightly informative and not too hard to follow..
My first DIY article....haha
I'm just waiting on my mag drive 7 it's on a ups truck, should be here wendesday......
But for the meantime i got 2 powerheads with sponges from my inside tanks runnin on the pond.
Also, got 3 lil comet goldfish i got from my neighbor...jus to help gettin it cyclin...
Here she is....
will update when i get pump.....